LAUNCH OF THE 8th EDITION OF THE WORLD ATLAS OF WINE, 24 SEPTEMBER 2019
I was privileged to be invited by Jancis Robinson to attend the launch of the 8th Edition of The World Atlas of Wine – the landmark publication which has been serving as the 'go to' reference guide for the global wine industry since the first edition was published, in 1971. There have been 4.7 million copies sold of previous editions and it will most likely push through 5 million with this Edition.
The reception was held in London's historical Vintner's Hall, along the Thames, where medieval wine merchants used to store their barrels. It was co-chaired by the originator of this publication, Hugh Johnson, and co-author, Jancis.
I have been very pleased to have had a long association with this publication. I was invited by Hugh to contribute the first entries on Asia, in the 4th Edition, and I have continued to contribute in each Edition following that.
At the launch, Jancis also wanted to show the very well-informed guests some wines that they would be surprised about, and most guests would probably not have seen before. So, after the launch, guests were invited to taste a line-up of 24 unique wines – including wines from England, Russia, Slovenia, Romania, Bulgaria, Georgia, Turkey and Lebanon. I was asked to help with Asian wines and we showed wines from Thailand (GranMonte), Japan (Château Mercian) and India (Fratelli).
The 8th Edition of The World Atlas of Wine has since been named winner of the 2019 Andre Simon Award for Best Drinks Book.
7th ASIA WINE TROPHY COMPETITION, DAEJEON, SOUTH KOREA, 18 to 21 August 2019
I was judging again, for the fifth time, at this eye-opening wine competition. It is the annual re-run of one of the world's five major competitions, the Berlin Wine Trophy. In Daejeon, the wines re-judged, specifically for Asian palates. Its global status is assured through the patronage of the OIV. It is organised by Deutche Wein Marketing GmBH and conducted under the auspices of the International Union of Oenologists (UIOE).
This year there were a record 4,386 entries, from 35 countries. The wines were judged by 127 jurors, from 26 countries. To ensure the Asia palate theme, 60% of the jurors are from Asian countries.
I was the Chair of a Judging Panel that had judges from Japan, Korea, China and France. We judged 169 entries, produced in countries from all continents, made from 33 different varieties – 18 white and 15 red. Some of entries were far from very regionally-specific varieties – like Mencia,, Bobal, Bonarda, Parellada, Macabeo. Several varieties were relatively or totally new discoveries for jurors – Azal, Loureiro, Siral, Xarello, Merseguera, Parellada and Pederna. And a wonderful surprise, for most of us, was an Israeli white wine made from the Marawi variety (also known as Hamdani) which I cannot recall tasting before.
Three members of the Asia Wine Producers Association won Gold medals for their wines – GranMonte (Thailand), Hatten (Bali, Indonesia) and Grand Coteau (Korea).
AWPA PRESENCE AT DAEJEON (SOUTH KOREA) WINE EVENTS, AUGUST 2019
This was the 7th time that this Fair and related events have been held in Daejeon, South Korea. It is gathering more local and international support each year.
This year there were approximately 80,000 visitors to the Fair.
.
This year we had three member wineries actively participating – Hatten Wines (Bali, Indonesia), Chateau Mercian (Japan) and GranMonte (Thailand). Our Korean member, Grand Coteau, had a separate booth in another part of the Hall, but its wines were also displayed and served on the AWPA booth.
On day one and day two, virtually all of the visitors to our booth were either buyers, exhibitors, media, academics or representatives of industry institutions or industry organisations. On the third day, most of the visitors were general public. Over the three days of the Fair we had approximately 800 visitors to the booth, of which around 20% were international visitors – either exhibitors, buyers, media, academics or representative of industry bodies.
JUDGING AT THE JAPAN WINE COMPETITION – for the 16th Time, July 2019
I have had a long association with the JWC – since it launched in 2003 – and I am proud to be associated with the major event in the local wine industry in Japan each year. This year I am very grateful, also, to Motoko Ishii-san and the Japan Wineries Association for all the arrangements they made for me to visit 16 wineries in Yamanashi. I always visit a few, but this is the most in one visit, so far.
With over 700 entries in the JWC, from a wide range of varieties, regions and producers, it provides a very comprehensive overview of what is happening in the sector. It helps, enormously, for me to share the Japan wine story with a depth of knowledge I get from this event.
For the past several JWCs I have judged the Japanese Hybrid and Other Red category, which I have been finding of great interest, and I am getting lots of discoveries.
(a) Japanese Hybrids
This major variety in this category is Muscat Bailey A which is the growth and development frontier for the industry and, along with Koshu, is defining the unique character of the Japanese wine industry. As a single variety or as the major variety in blends with other hybrids, Muscat Bailey A accounted for76% of the total entries in the category - 100 of the 132 wines in this category.
The quality of the entries in this category, overall, was very good. However, the difficult climate conditions in recent vintages has impacted on the quality of the entries, but the overall standard of the winemaking is still very high.
While there has been enormous progress in recent years in defining this local signature wine the difficult climatic conditions increased number of entries that were relying on higher added sugar (chaptalisation), concentration and more oak to give flavour and substance to the wines. In my opinion, ruby colour of MBA, and diminishes the natural fruit impression. In my view this is not a good technique, as it can make the wine more purple in colour, rather than the natural, the best quality and most pleasing palate and aroma impression of MBA is when it is given gentle pressing, fermentation and storage processes.
After MBA, the rest of the entries represented a very wide spectrum of varietal characteristics. I think the sole Rondo entry was one of the best in this group. Two of the Yamasauvignon entries were comfortably Silver medals for me. The quality of the Wild Grape entries was variable, but interesting overall, and one was Gold Medal standard for me. I thought that the blends of Muscat Bailey A and Black Queen were very good and two were Gold Medal standard for me.
(b) Blended Red Wine
I did not think this was a strong performing category and it seems the other judges shared that opinion, as scores overall were relatively low. My highest score in this category was 17 points, for a blend of Merlot and Black Queen. This added to my impression of Black Queen as a very good blending variety, but a bit too aggressive as a single variety.
I also found it interesting that 16 of the 24 entries in this category had Muscat Bailey A, further underlining the strong emergence of this variety as the second 'signature' variety for Japan, after Koshu.
(c) Labrusca
I did not rate this category as a strong performing category – in fact, it got the lowest range of my scores of any of the categories we judged this year. And that has been my experience in previous years. The only red Labrusca variety that does do well in my opinion is Campbell Early, when presented as a soft and fresh wine. One entry stood out for me, the first wine in the category, and I scored it as Gold Medal.
WHAT DO I EXPECT IN THE FUTURE FOR JAPANESE WINES


I have been watching the development of Japanese wines now for just over 30 years. When I first discovered Japanese wine, it was mostly made in a simple way, and there was a not a lot of diversity. But that has changed rapidly, And the pace of change has accelerated over the past decade. There is very professional winemaking and a quite amazing range of varieties now in active use by winemakers with some very impressive results.
I expect this new creativity and experimentation in the industry to increase in the years ahead. This will have, in my opinion, two outcomes. One will be an overall improvement in the quality and varietal expression in the wines. The second will be the refinement in the local adaptation of newly introduced varieties from other countries as well as the refinement of local hybrids. As part of this process, there will also be refinement of unique local blends - and the ones I think are showing most promise are blends that include Black Queen, which can bring more colour, a firmer structure and more palate expression to varieties like Merlot and Cabernet.
Other unique varieties that I think have good potential include Rondo, Regent and Yamasauvignon,
Good progress has been made in attracting international attention with Koshu. I expect that the international understanding and respect for this variety will expand significantly in the years ahead. And this achievement is leading many people to ask what else Japan is achieving with its wine. I think that targeted sharing of the results of the JWC with wine enthusiasts in major international markets will help build awareness and respect for what the Japanese wine industry is achieving. I would expect that it will also generate particular interest in Muscat Bailey A as a new frontier for Japanese wine in international markets.
VISITS TO WINERIES IN YAMANASHI
This year I had tours and tastings at the following wineries:
Chateau Mercian
Asahi Yoshu
Suntory Tomi no Oka
MGVs
Soryu
Diamond
Katsunuma Jyozo (Aruga Branca)
Kizan
Manns
Marufuji
Kisvin
Lumiere
Sappporo Grande Polaire
Chuo Budoshu (Grace)
Haramo
Mars Hosaka
ASIAN WINE REVIEW 2018 LAUNCH, HONG KONG 10 March, 2018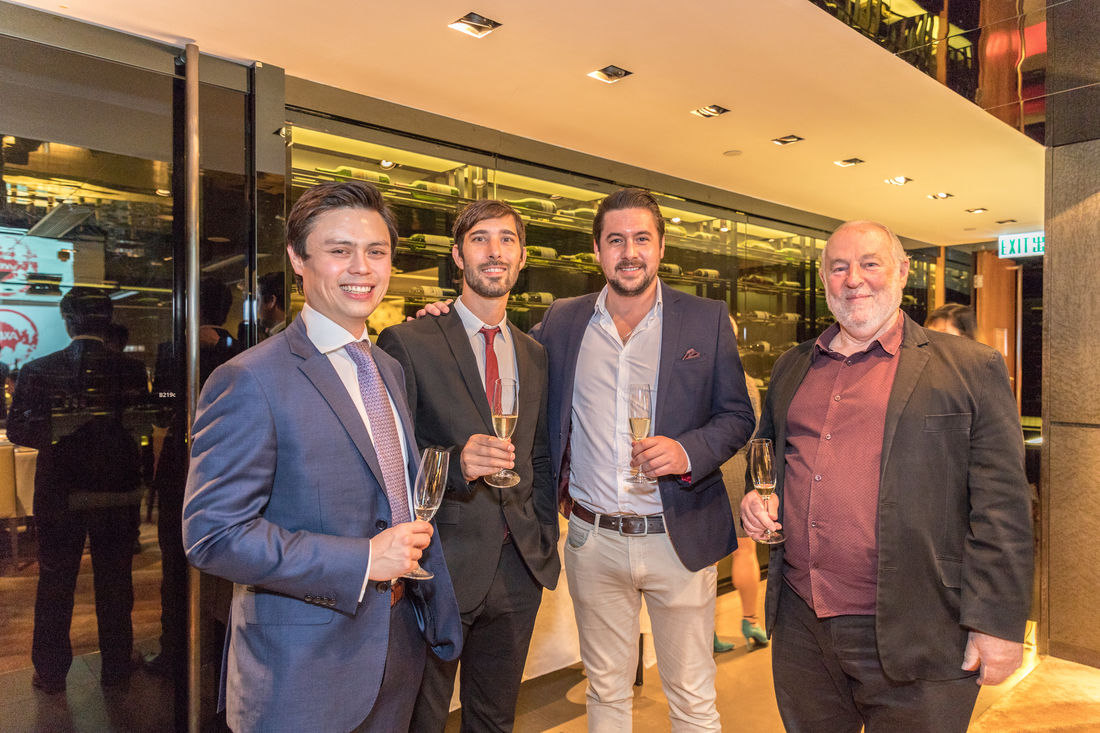 I was in Hong Kong for the launch of the 2018 edition of Eddie McDougall's Asian Wine Review, the third edition of this powerful communication instrument for the Asian wine industry. And prior to the launch, I presented a Master Class on Asian wine with Eddie.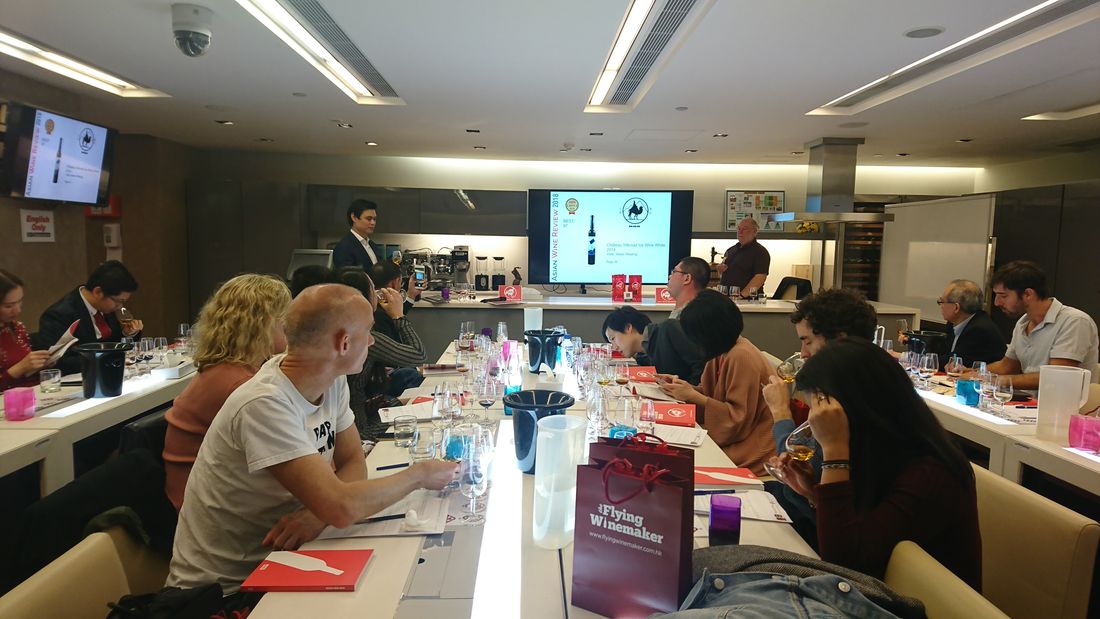 For this edition of AWR the judging Panels, one of which I chair, reviewed wines from wineries in 10 countries across Asia. For this initiative, we use the broader geographic definition of Asia, extending west through 'The Stans' and all the way to Caucasia.
In the first two editions of Asian Wine Review the Winery of the Year was a member of the Asian Wine Producers Association - Chateau Mercian (Japan) in 2016 and Hatten Wines (Bali, Indonesia) in 2017. The Winery of the Year for the 2018 edition is also an AWPA member winery - Grover/Zampa (India). And what a performance: they won Best Rose with their Art Collection 2017 Rose, and Gold for their Soirée Brut Chenin Blanc 2015 and Vijay Armritaj Reserve Collection Red 2017, Silver for their 2017 Art Collection Sauvignon Blanc and Bronze for their La Reserve Blanc 2016 and Vijay Armritaj Reserve Collection 2016 White.
Hatten won Gold for their Pino de Bali NV fortified dessert wine. Chateau Mercian won Gold for their Kikyogahara Merlot 2013. They also won seven Silver medals and two Bronze medals. The Mercian wines were presented in a Master Class by Mr Katsuhisa Fujino the day before the Awards Dinner.
AWPA member wineries accounted for five of The Top 12 wines in the show. Sapporo's Grand Polaire was also a standout, with two Koshus in the Top 12. Also in the Top 12 were three wines from China - Best Sweet from Xingjiang Silk Road Manor Winery and Gold for Li's Vineyard Family Collection Cabernet Sauvignon and Its Shiraz. Best Sparkling was from Georgia, Badagoni Brut 2015, and Best Red was Israel's Barkan Winery's Superieur Cabernet Sauvignon 2012. They were all poured for participants at the dinner that followed the presentation of the Awards.
AWPA MEMBERS' TOUR OF THAILAND, 16th – 19th January, 2018
One of the best opportunities for members of the Asian Wine Producers Association to meet and share their knowledge and experience has been the annual Members' Tour. Last year it was in India and, this year, it was Thailand. I have been part of both, in my management role for the AWPA.
Each year the Thai Wine Association conducts an inspection of member wineries and vineyards and this year representatives of AWPA member wineries were invited to join the tour, as the annual Members' Tour, in the 3rd week of January (16th – 19th).
It was a great success, opening up for the visitors the practicalities of grape growing and winemaking in Thailand and providing the opportunity for participants to see the results in the glass – and all were impressed.
It took place, over 4 days, in the two major producing regions – Khao Yai and Pattaya. The tour started in Khao Yai, about a two and a half hour drive from Bangkok and the base for four of the five members of the TWA. GranMonte was the first winery visited, followed by J&J Vineyard, which is managed by GranMonte. Then we went to Village Farm's Khao Kaew Vineyard and finished up at their Chateau des Brumes winery and resort. The second day began at Moonlight Valley Vineyard in nearby Kabinburi before the long drive to Pattaya (180km) for the inspection of the Silverlake Vineyard and Winery.
HONG KONG Wine & Spirits Fair, 9 – 11 November 2017
For the third year, we had the Asian Wine Producers Association booth at the Fair, this year with seven Member wineries showing their wines on the booth - from India, Grover/Zampa, from Thailand, GranMonte and Silverlake, from Bali (Hatten) and from Japan, Chateau Mercian, Hokkaido Wines and Tsuno Wines.
The awards were also presented for the HK International Wine & Spirits Competition and Member wineries did exceptionally well. GranMonte won three Trophies, Chateau Mercian won two Trophies and Hatten and Hokkaido Wines also each won a Trophy.
SHANDONG, CHINA, November 2017
I always find my visits to Shandong interesting and informative – more so in recent years.
My very first trip was in the early 1980s when I visited Chateau Changyu, China's first European-inspired winery, established in 1892 at Yantai and working with classic European grape varieties ever since then. The first varieties introduced included Cabernet Sauvignon, Cabernet Franc, Cabernet Gernischt (now known to be almost the same in DNA terms as Carmenere), Syrah (but it subsequently disappeared) and Riesling. Other varieties have been introduced over subsequent decades and Changyu, China's largest wine producer, now also has large areas of vineyards in other provinces in China – Hebei, Shanxi, Ningxia, Xingjiang and Liaoning. It now says its total vineyard area is 22,722 hectares. It also has operations outside China – in France, Spain, Chile and, since December, an 80% stake in Kilikanoon Winery in Australia's Clare Valley.
Chateau Changyu was my first call on this visit, arranged by my long-standing friend and great source of industry information, Jim Sun (founder of Wine China, the powerfully respected online information medium). And I was travelling this time with my good friend, Richard Lu. It is the fifth time I have visited Chateau Changyu and I'm always fascinated by the changes. No doubt there will be many more in the years to come. I was also able to update on another one of the exciting established Shandong producers, Weilong (Grand Dragon).
Frankly, when you drive around this region it is hard to imagine it being a natural choice for viticulture and winemaking. There are vast flat valleys, occasional peaks, but little protection from the severe coastal climate, on the North-west corner of the Shandong Peninsula adjoining the Bohai Gulf, which brings in the tail end of monsoons with intense rainfall and humidity during the growing season and an intense cold in the winter that requires vine covering. But it has long been the wine industry headquarters in China and, despite the broadening national geographical perspective taken up by most of the big Shandong wineries, there has been quite stunning expansion of the industry in Shandong itself over the past 15 or so years.
The new frontier is in the Penglai sub-region in the Yantai Local Government area. And, on this visit, I was able to get a good update - driving around the sub-region extensively and having informative visits and tastings at three of the respected new ventures – Chateau Junding, Sheng Tang and Taila.
HONG KONG Wine & Dine Festival, 26 – 29 October 2017
If anyone needs any proof about the amazing wine phenomenon that is gaining further momentum each year in Hong Kong, they should visit the annual Wine & Dine Festival. It is now in its 9th year and, this year, attracted 140,000 visitors to the 400+ booths out in the open around the Central Harbourfront Event Space, over four days: 300 of them were for wine, 100 were for food or spirits, representing 20 countries.
The burgeoning wine culture got a very substantial boost in 2008 when the import duties and taxes on wine were removed, to encourage wine producers to use Hong Kong as a wine hub for Asia. Wine events are being strongly backed by government agencies (principally the Hong Kong Tourism Board in this case), but also are receiving very strong support from the corporate sector (including Cathay Pacific and the China Construction Bank). An indication of the broad global wine sector commitment to the Hong Kong market is that the Riedel Glass company was there this year with a big 'Tasting Theatre' and very extensive tasting program - on each of the four days. A newcomer was the Robert Parker Wine Advocate, with a very large pavillion offering a broad selection of premium wines for guided tasting.
ASIAN WINE REVIEW 2018 – Judges Tasting, 27 October 2017
Eddie McDougall's innovative project to raise the profile of Asian wines in domestic markets in Asia and internationally is entering its third year when the 2018 edition is released in early February. It is now published in three languages – English, Chinese and Japanese – and is also available on the Flying Winemaker website: https://flyingwinemaker.com.hk/asian-wine-review/download/.
We did the judging this year in Hong Kong on 27 October and I was a Panel Chair again.
There were 211 entries, from nine countries in Asia. The highest number of entries were from China (56), Japan (56) and India (36). The finalists were re-tasted for best/trophy and the winners per category were: Sparkling = 3, White = 6, Rosè = 2, Red = 7, Sweet = 3.
DAEJEON SOUTH KOREA - Asia Wine Trophy Competition, Asia Wine Buyers Conference and Daejeon Wine & Spirits Fair, 27 August – 3 September 2017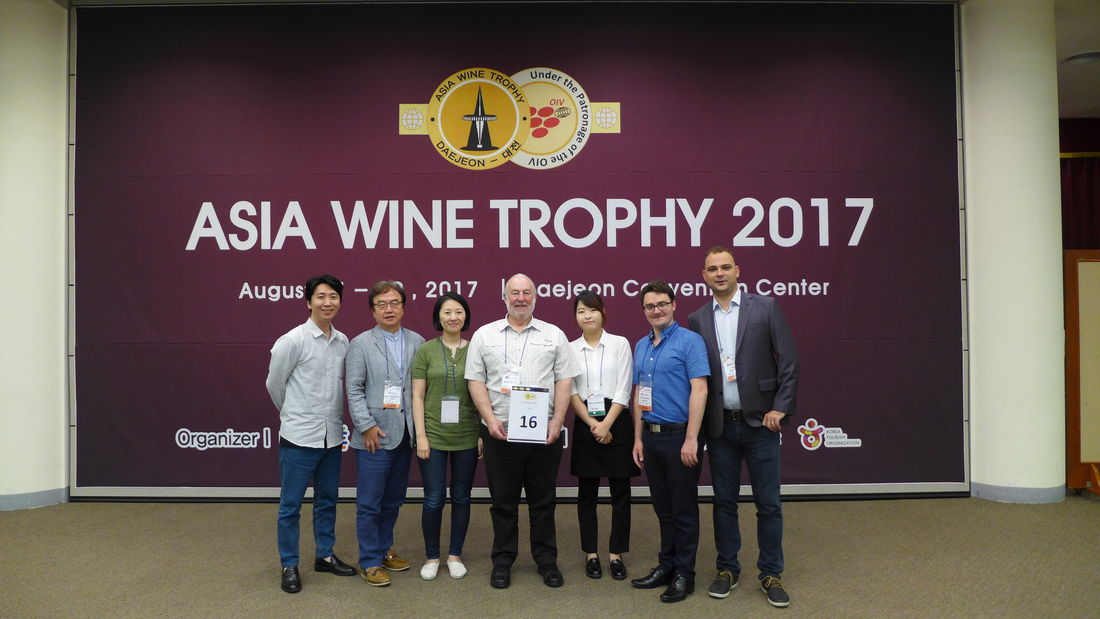 The Asia Wine Trophy Competition
This is the 5th year that the Asia Wine Trophy Competition has been held in Daejeon, South Korea. And it was my third time chairing a panel of judges.
It is, basically, a re-run of the Berlin wine trophy – assessing the entered wines for Asian palates. There were 3,930 entries this year, the highest so far, from 13 countries. They were assessed by 125 judges from 23 countries, most of them from Asia.
The Competition is jointly managed by Deutsche Wein Marketing (DWM) and Daejeon International Marketing Enterprise (DIME), with the judging process being under the control of the Organisation International de la Vigne et du Vin (OIV) and the Union Internationale des Oenologues (UIOE). It is the largest wine competition in Asia.
Asia Wine Buyers Conference
The Asia Wine Buyers Conference runs parallel with the judging and covers a broad range of industry subjects presented by industry experts from around the globe.
This year, I was invited to conduct a Master Class on "Asian Wine in a Global Context". It consisted of an overview of wine making evolution in Asia and the expanding market for wine in the region. I demonstrated the broad range of grape varieties and wine styles from Asian wine producers with a selection of wines from AWPA Member wineries from India, Thailand, Japan and Korea presented for tasting.
The attendance was almost to the capacity of the conference room and the feedback from participants was very positive, with many questions and requests for additional information.
Daejeon Wine & Spirits Fair
This is one of the biggest wine trade fairs in Asia with participation, this year, by 137 exhibitors, from 16 countries. There were more than 71,000 visitors to the fair this year.
We had a booth for AWPA member wineries, for the third consecutive year, with a rising number of visitors to the booth - 986 visitors over the two trade days. The wines we presented were from the following members – with each member providing three different wines to demonstrate the varietal and style diversity:
GranMonte (Thailand)
Silverlake (Thailand)
Village Farm (Thailand)
Chateau Mercian (Japan)
Grand Coteau (South Korea)
Grover/Zampa (India)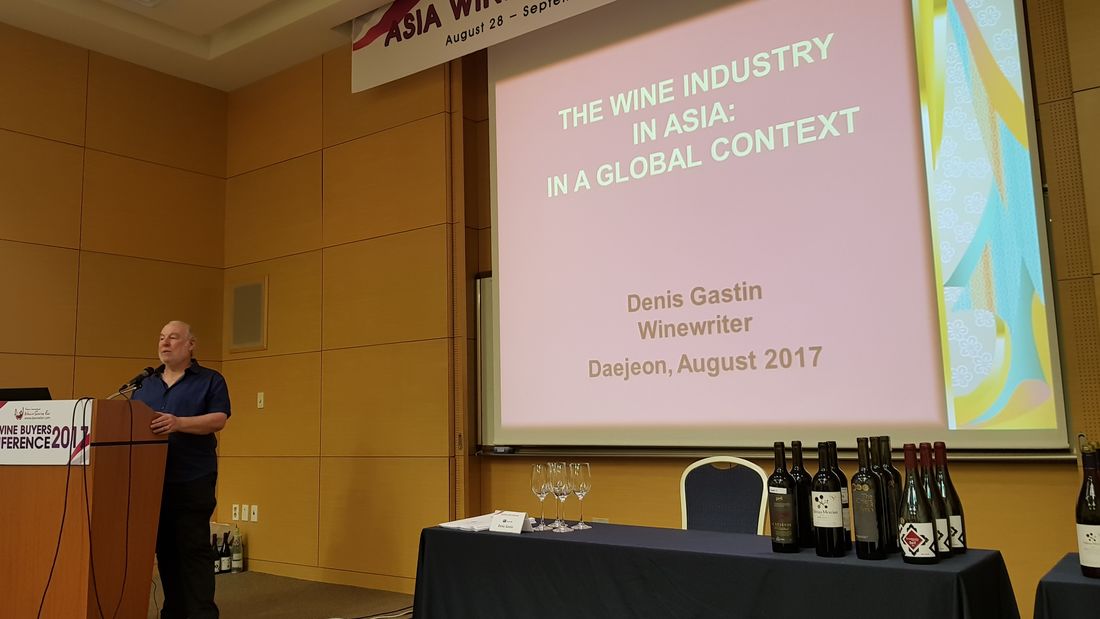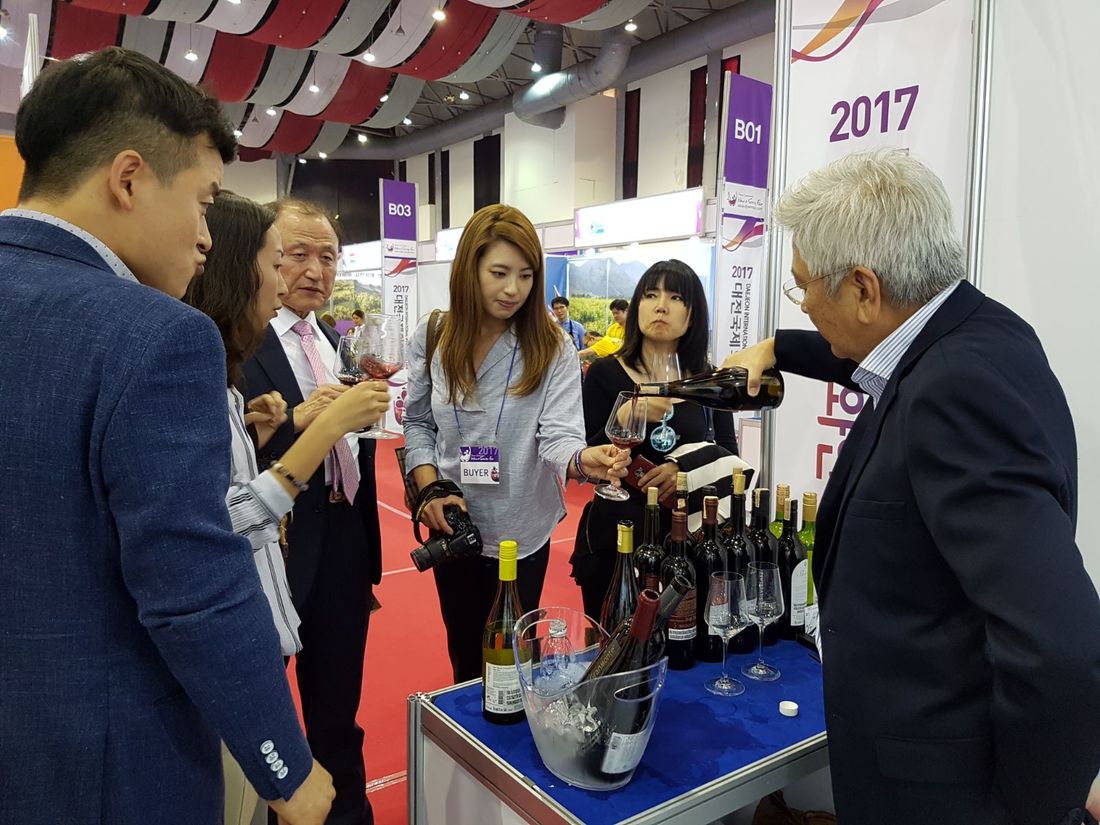 JAPAN Wine Competition, Kofu, Yamanashi, 27-28 July 2017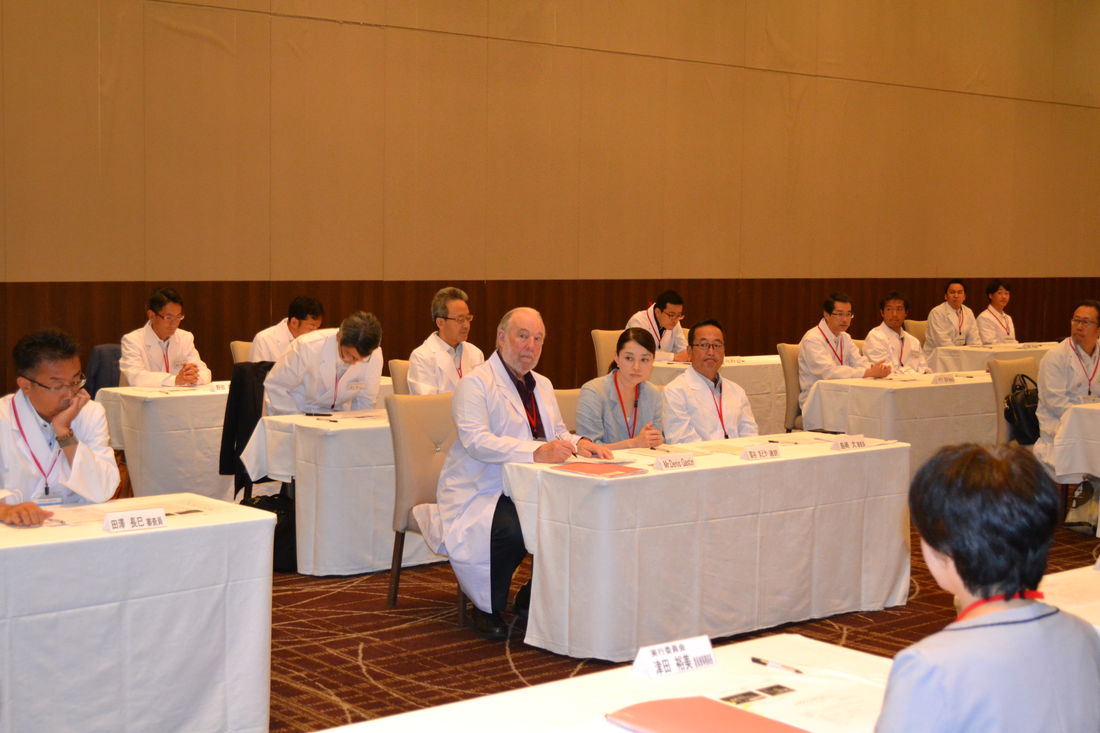 The 2017 JWC was my 13th time to be judging in the 14 years this Competition has been running.
All entries are domestic wines – 726 this year, 32 more than 2016 - and I was, once again, very impressed with both the quality and the uniqueness of the wines submitted. It is a very well organised and smoothly executed tasting event and the very professional approach leaves the judges totally free to concentrate on judging.
I was judging the Hybrid Red category again this year – 116 entries, 16 more than last year. I also judged the Blended Red category (12 entries) and Labrusca Red (9 entries).
I have been following the progress of Japanese wine since the early 1980s and have seen massive changes - both in the progressive advancement of quality and the evolution of unique local styles. And, each year at the JWC, I am able to see more progress on each of these fronts that will earn both international respect and growing international sales for local wineries.
The local vinifera grape, Koshu, is the stand-out, so far, but Muscat Bailey A (a locally developed hybrid of the vinifera variety Muscat Hamburg and a Labrusca hybrid, Bailey) is not far behind, and is gaining ground rapidly. This year there were 62 entries where MBA was the sole variety, and 40 entries where MBA was the main variety in blends. The wines are progressively becoming more impressive in terms of style statements – ranging from rosé, through to medium-weight Beaujolais-style and to full-bodied reds (either from old MBA vines or with darker varieties blended in). The blending roles played by other local hybrids, especially Kai Noir and Black Queen, are very interesting and there are more blends emerging with the local wild mountain grape (Yamabudo) and Yamabudo hybrids.
I am always fascinated by the development of the Yamabudo category and, especially, to see the number of varieties in this category growing. This year there were only three pure Yamabudo, but seven Yamasauvignon (and another three in blends), two Shokoshi (and one in a blend), and one Kita no Yume. Other Yamabudo-based hybrids (in blends) were Hokujun, Yamasachi, Himalaya, Fuji no Yume and Furano No.2.
Chateau Mercian Winery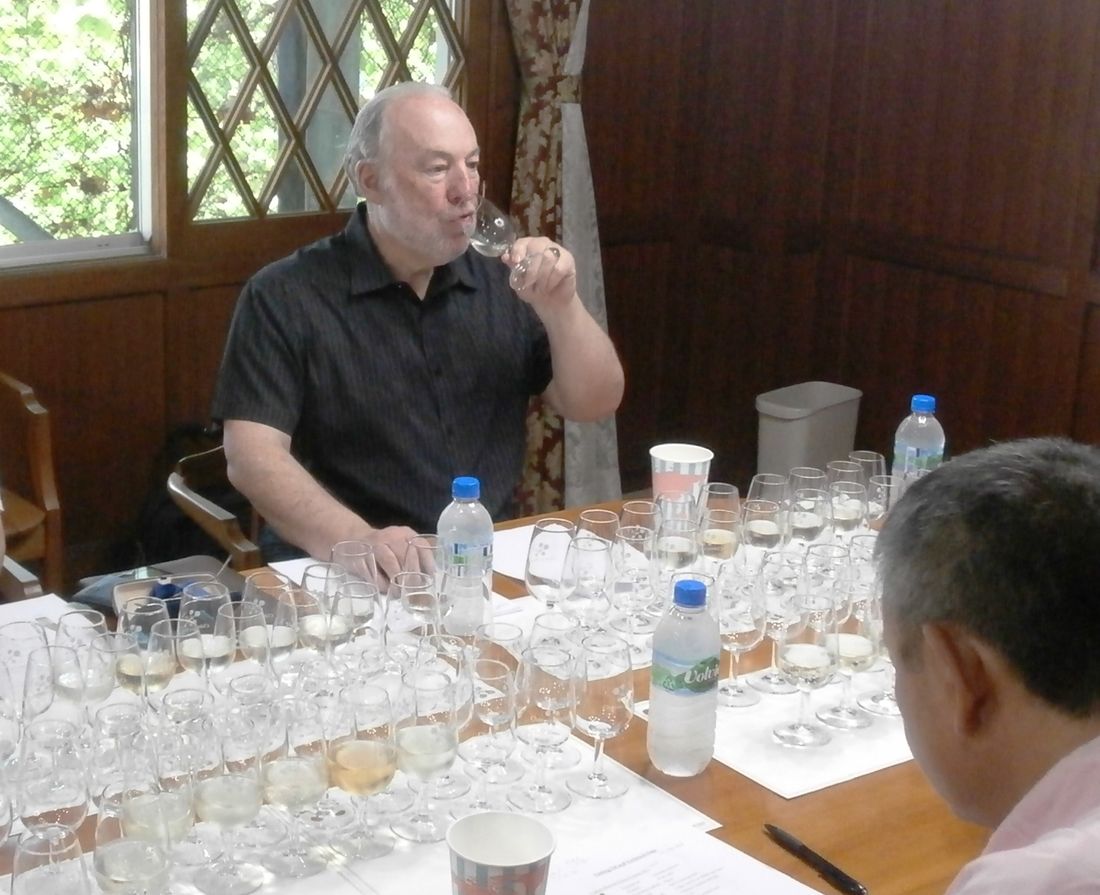 A highlight for me each year is that, after the judging, I am invited to have a personal presentation and tasting of the Château Mercian wines.
A main feature of the Mercian range is the Koshu line-up - the two wonderful Koshu Kiirokas (very fresh and natural versions with minimum chaptalization and no oak), the Cuvee Tanzawa, the Iwasaki, the Gris de Gris and the Barrel Fermentation. All of the Château Mercian Koshu is grown in Yamanashi Prefecture.
The other wines in the range from Yamanashi fruit include a sparkling Muscat Bailey A (Nihon no Awa Hosaka) as well as two full-bodied Muscat Bailey A reds. And, in the top classic range, the Château Mercian Jyonohira red wine.
Nagano Prefecture is the other major producing region for Chateau Mercian and, from this region, there are several standouts. One is the exceptional quality Chardonnay range - seven of them are from Nagano vineyards and there is also one from Fukushima Prefecture Niitsuru vineyard. My long-time favourite is the Unwooded Hokushin Chardonnay. To this has been added two outstanding wooded/sur lie Hokushin Chardonnays – the Rive Gauche and the Rive Droit, both very serious interpretations of the classic style.
The other Nagano standout is the single vineyard wines from the relatively new Mariko vineyard. There is an elegant Sauvignon Blanc, very much in the Bordeaux tradition, with very appealing minerality tones, rather than floral tones. And a stunning Syrah with white pepper aromas which immediately bring the Rhone Valley's St Joseph to mind. There is also a Mariko Merlot as well as a very impressive blend of Merlot (42%), Cabernet Franc (40%) and Cabernet Sauvignon (18%), called OMNIS.
But, when it comes to Merlot, the classic of the Mercian Nagano range has always been the Kikyogahara Merlot, very much in the Bordeaux Right Bank tradition. The 2015 (not yet released) impresses in this way, and will be even better with lots of bottle age. By contrast, the Mariko wines are very approachable now.
We also tasted two wines from Akita Prefecture – a Riesling and a Kerner – and a method traditionale sparkling wine, blending Fukushima and Nagano Chardonnay (52%) with Yamanashi Koshu (48%).
Marufuji Rubaiyat Winery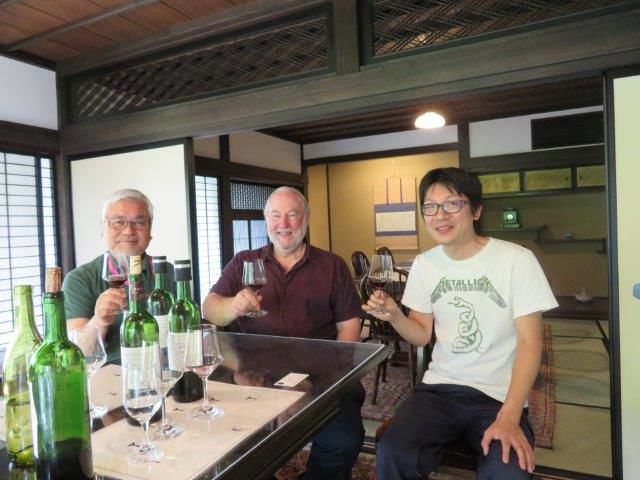 One of the very first wineries I ever visited in Japan was the Marufuji Rubaiyat winery in Yamanashi. I've visited several times since then, and have frequently tasted the wines elsewhere. So it was a wonderful way to wind up my visit to Yamanashi this time with a couple of hours at Marufuji Rubaiyat in the company of my long-standing friend, Omura-san (on the left in the photo), the current generation family member who has been running this historical winery (originating in 1890) for the past couple of decades.
I was very impressed by the 2015 Koshu Sur Lie - and was most appreciative of Omura-san for also opening the 2004 to show how it ages. On the 2015 I actually detected some aromas of kiwi fruit and the palate is very clean and fresh with great length and palate expression. The 2004 was slightly oxidised and showing its age, but impressive nevertheless. The 2016 Sauvignon Blanc was also a standout for me, with really appealing mineral aromas and crisp and fresh flavours.
All of the red wines were wonderful. I was particularly impressed by the MBA - such a rich and complex aroma and flavour structure for this gentle variety. It is one of the very best wines of this variety that I have tasted. And the Domaine Rubaiyat is a great combination of varieties to present a surprisingly rich and long palate complexity - which I am sure will benefit from 10 years of bottle age. I felt the same way about the Merlot Prestige - a gentle early palate impression, then a very firm and clean finish with lots of expression.
The Manriki Rouge is another great mix of varieties - with Tannat (this winery is one of only two in Japan working with Tannat) adding a lot to the palate structure that is difficult to get with Merlot alone. We didn't taste the Petit Verdot at the winery, but I was tasting it at the JWC and I am always amazed at how well this winery handles this "little green" grape for a rich and elegant palate outcome.
Hokkaido Wine Academy Conference, 8 June 2017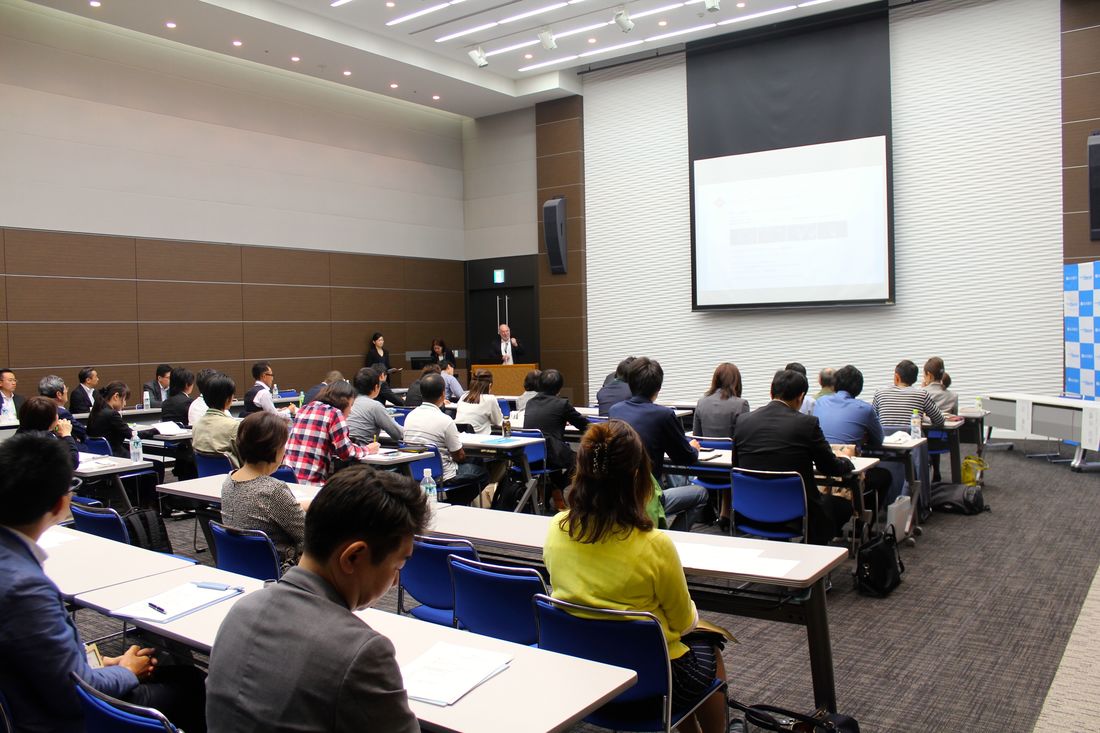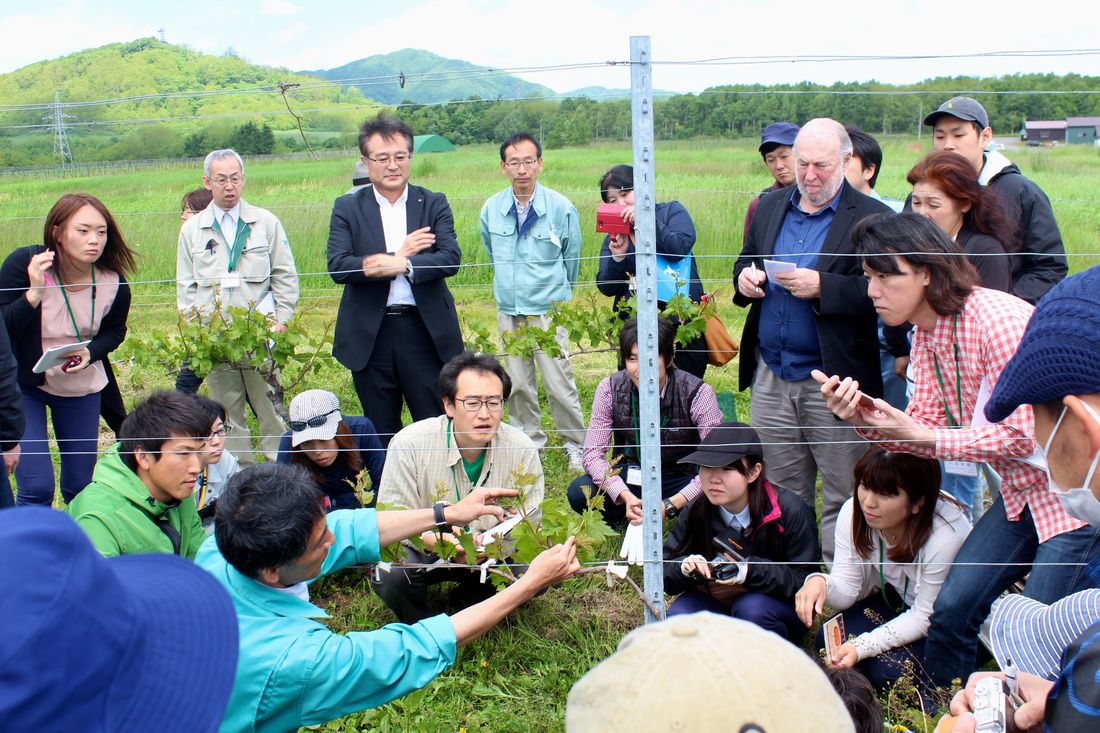 I was in Sapporo to deliver the keynote address to the Academy's Conference, providing an overview and update of the wine sector in Asia and putting Japan (the region's second largest producing nation), and specifically Hokkaido, in context.
This visit provided me with the opportunity to update on the really outstanding progress of the industry in this rather unlikely environment – with extreme cold climate, along the lines of Western China. My previous visit had been in 2013.
In 2000, there were just eight wineries in Hokkaido – now there are 33. The largest producer in Hokkaido, Hokkaido Wine, is now the largest wine producer in Japan. In contrast to the rest of Japan, it has very large scale viticulture – owning and operating about 150 ha as well as drawing on about 40 contract grape growers. A large scale vineyard on the main island, Honshu, is about 10 ha.
There has been tremendous progress beyond the original operations essentially based on Labrusca and indigenous (Yamabudo) varieties and hybrids. Now, in addition to widespread plantings of Kerner, Pinot Blanc, Muller Thurgau, Bacchus, Gewürztraminer, Zweilgeltrebe, Lemberger and Seibel, there has been great progress recently with exotic varieties like Regent (Muller Thurgau x Sylvaner x Chambourcin) and Rondo (Saperavi x St Laurent), now producing very attractive wines.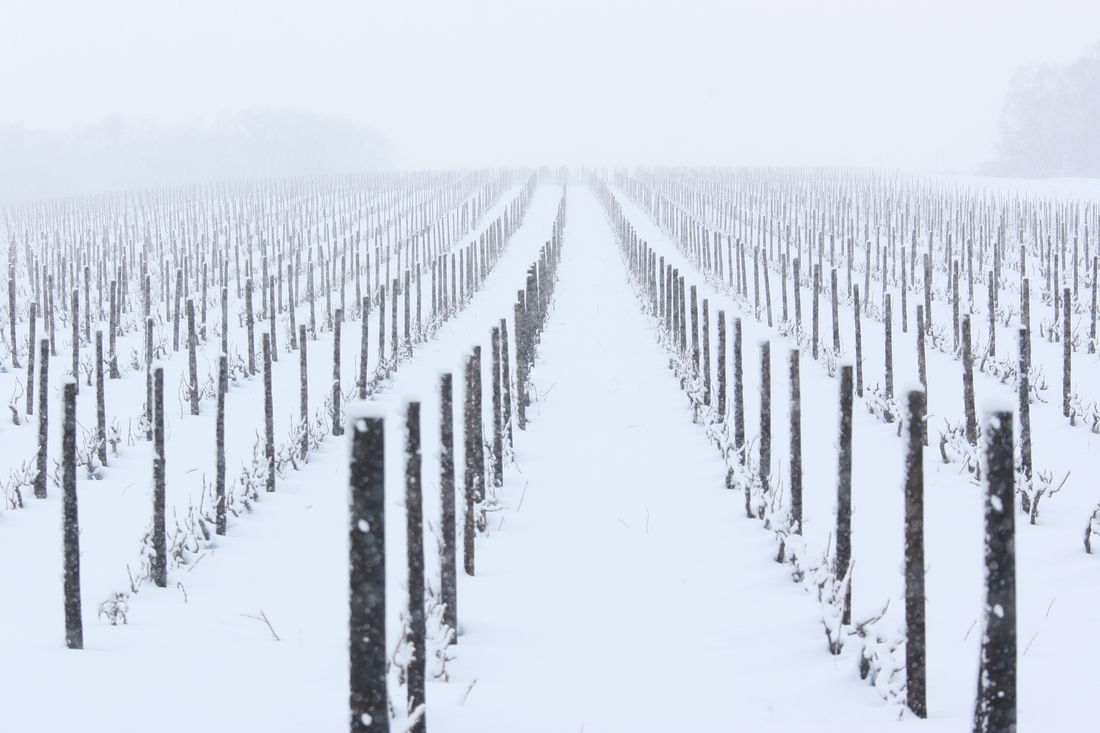 Asian Wine in Hong Kong, 18-19 April 2017
I was in Hong Kong in April for the launch of Eddie McDougal's 2017 edition of Asian Wine Review, the annual publication that is rapidly building power as an active instrument to raise the profile of Asian wines – building awareness and confidence among consumers within the region and attracting global attention. I was again participating in the judging, last November.
It was also for the launch of the Asian Wine Festival, which Eddie intends will be an annual event. There were over 60 Asian wineries participating, from countries including Japan, China, Indonesia, India, Thailand and Myanmar. I was managing the Asian Wine Producers Association Booth presenting for tasting each of the wines that had been entered by AWPA members in the Asian Wine Review judging process (see report below). There were over 300 attendees at the Festival - from the wine sector and the media, as well as consumers.
The 2nd edition of Asian Wine Review (2017) saw entries almost trebling, to total 299 wines, from over 100 Asian wineries. Published in three languages – English, Chinese and Japanese – it covers 215 pages. There were 30,000 copies produced in hard copy and there is unlimited access to on-line copies free of cost. In addition to featuring awarded wines, the book contains a section about Asian viticulture, including a presentation on Japan's unique grape varieties, which I wrote for this edition.
This professional exposure of winemakers in Asia has increased dramatically the number of Asian wine brands being listed in importer's and wholesaler's portfolios, which in turn has inspired the procurement for the on and off trade sectors.
More on the Asian Wine Festival can be found here by clicking this link
More on the Asian Wine Review intiative can be found here by clicking this link
Asian Wine Review 2017 Launch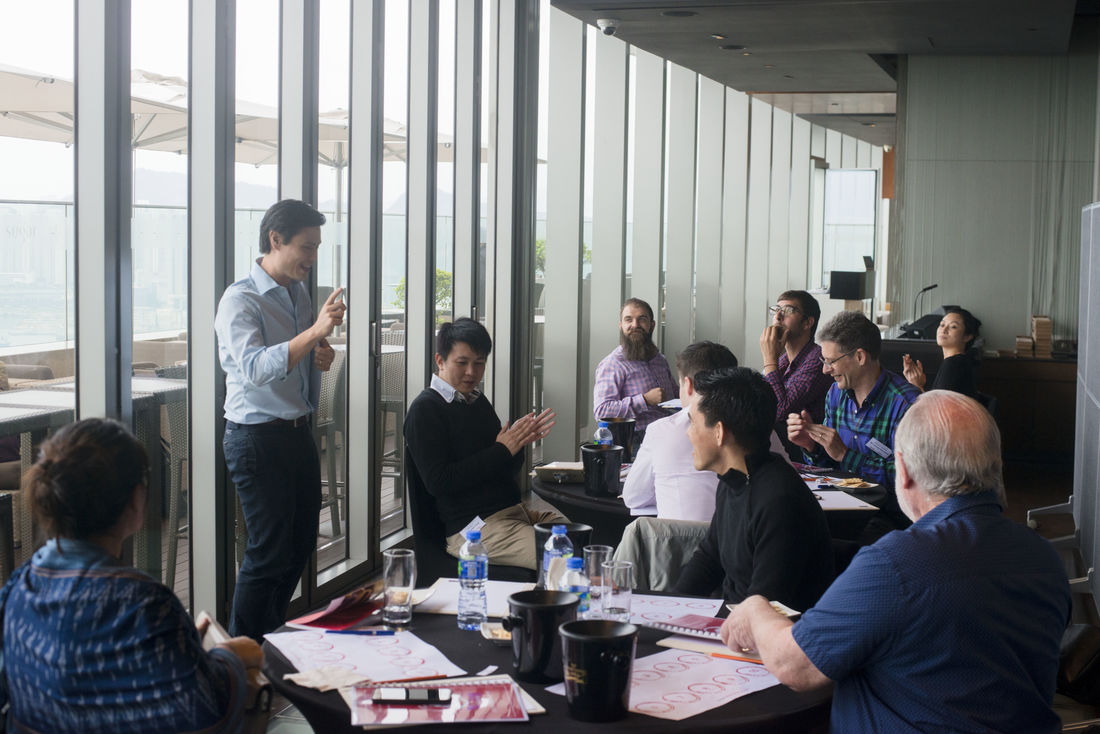 The inaugural edition of this very important publication, presenting a full and formal evaluation of a broad range of Asian wines to inform local and international buyers, was released in 2016. It was the initiative of a very open minded and adventurous Hong Kong-based winemaker and wine communicator, Eddie McDougall, with inputs from other wine industry personalities – including myself.
In November 2016, Eddie gathered together an impressive panel of wine experts to judge a vastly expanded range of entries (over 200 wines, from nine countries) to present in the 2017 edition – which has just been launched early this month.
I was honoured to be asked by Eddie to chair a judging panel. I was also very pleased to be able to contribute to the glossary of Asian grape varieties included in this edition and a separate chapter on the unique grape varieties of Japan that are emerging as a new style frontier.
You can download a digital copy of AWR 2017 here:
https://online.flippingbook.com/view/881939/
You can see the promotional launch video here:
https://www.youtube.com/watch?v=LRI8ls2TaPw
Asian Wine Producers Association tour of Indian wineries, 23-26 January 2017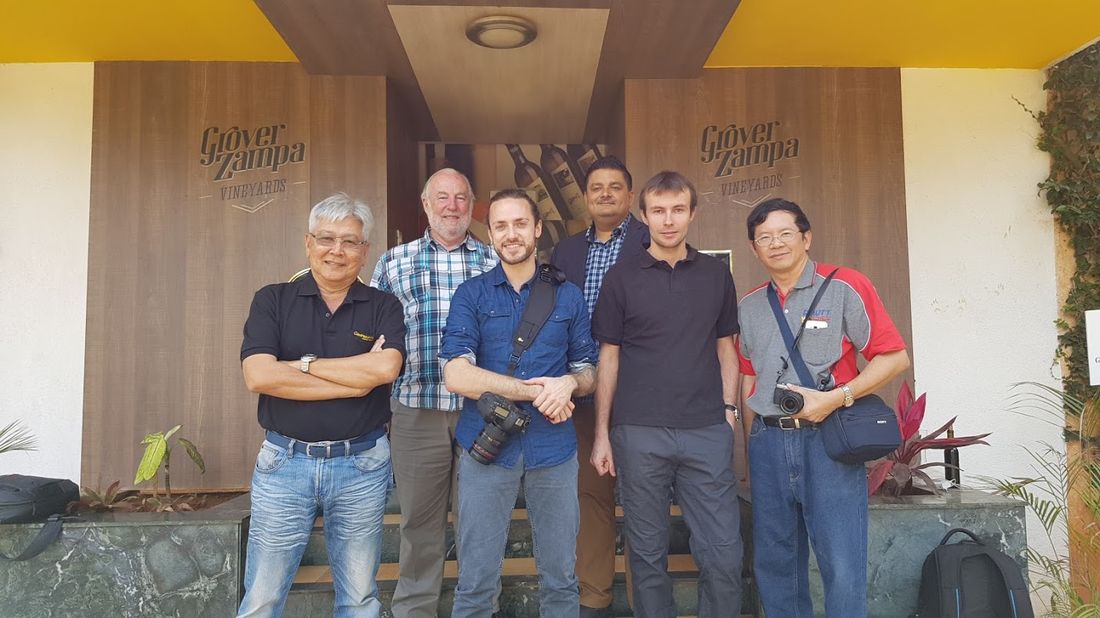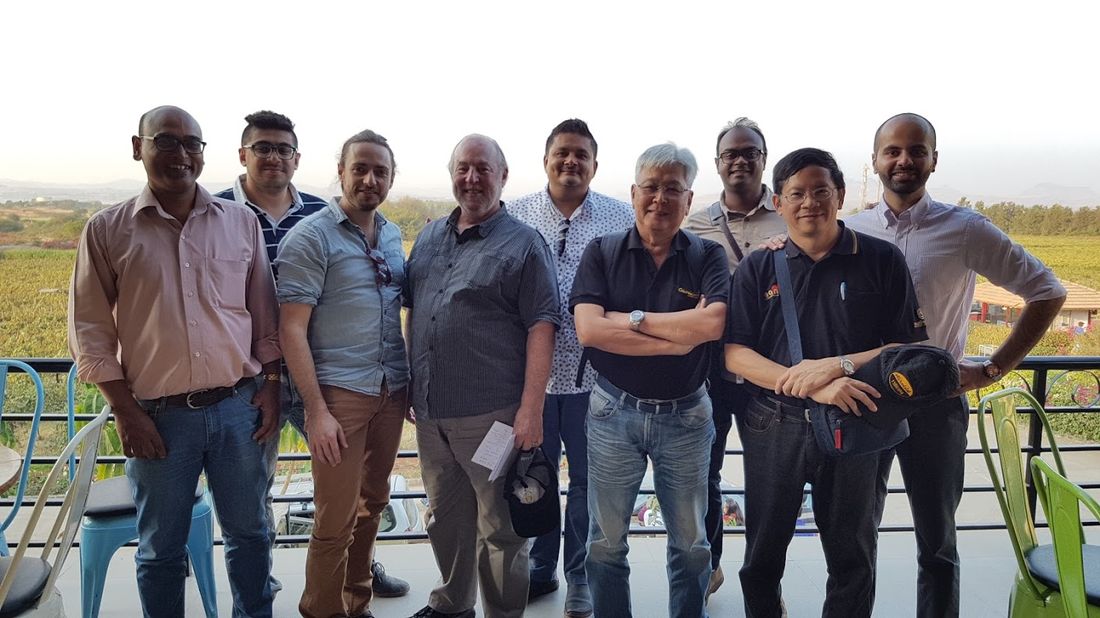 We launched AWPA in 2014 and we are progressively adding new members, expanding the country coverage and increasing the number of events aimed at expanding the dialogue between member wineries and building international recognition and respect for the achievements of the wine industry in Asia. After several years working with some respected leaders in the industry in Asia to establish the Association, my ongoing role is as a Member of the Executive Committee and as its (honorary) Manager, responsible for day to day activities.
The objective of the tour was to provide an opportunity for members to spend some time together and to inspect first-hand the vineyards and wineries of the AWPA's three Indian members – Grover/Zampa Vineyards, Sula Wines and York Winery. For this purpose we were also joined by the founder of the Wine Explorers concept (http://www.wine-explorers.net/), Jean-Baptiste Ancelot, so that he could see first-hand some of the exciting developments in India, before progressing on to Thailand, Myanmar, Cambodia and Vietnam (for his reports, see: https://www.facebook.com/WineExplorers)
The tour started in Nashik, about a four hour drive (if you are lucky) from Mumbai (Maharashtra State) and the home to by far the largest part of the Indian wine industry. It was the sixth visit for me, over a period of 20 years. And it is amazing to see both the huge growth in scale of the vineyards and wineries and the massive advances in wine quality over this period - as well as the impressive sophistication in the cellar door experience that is now being offered to visitors. This is certainly the case with the three member wineries and we were able to see and test this fist hand on the tour. There are over 70 wineries in Maharashtra State now - mostly around Nashik, but also around Pune.
The second stage of the tour was in and around the vineyards and wineries of Grover/Zampa, about two hours from Bangalore, the capital of Karnataka State. Grover was one of the pioneer Indian wineries and the very first in Karnataka State, established in the late 1980s. There are now 17 winemaking operations, but Grover is by far the largest in the State, and the second largest in India overall.
We tasted over 100 wines – right across the spectrum of varieties, style and price points. The major varieties are still Sauvignon Blanc and Chenin Blanc, for the whites, and Shiraz and Cabernet Sauvignon for the reds. But there is a great deal of experimentation. Chardonnay and Malbec have been tried extensively, but haven't impressed. However, Tempranillo and Viognier, for example, have been doing particularly well and are becoming major varieties in both regions. Grover is now planting Gamay and Muscat à Petits Grains, confident of them performing well in the Bangalore region. Sula has had Zinfandel since the outset and, more recently, has experimented with Riesling and Pinot Noir in higher altitude locations, with good results. They now have 18 varieties planted.
New Zealand (South Island): 2-7 January 2017
In the first week of January 2017 I spent a week in the South Island to update on recent developments, reconnect with some key people in the industry there and to refresh my palate with contemporary style developments in the Waipara and Central Otago regions.
I began the program in the Waipara Valley, just North of Christchurch. And the highlight was, as expected, the regional pioneer, Pegasus Bay winery, established and still operated by the Donaldson family. They have outstanding Pinot Noir but are also producing outstanding red wines with Merlot, Cabernet Sauvignon and Malbec. And they are doing great things with Riesling, Gerwertztraminer and Sauvignon Blanc (with Semillon).
The other standout winery in the region is Greystone, now also incorporating neighbouring vineyard and winery, Muddy Water. The whole operation is very nature-driven and Muddy Water is certified organic. All the Greystone reds are Pinot Noir but Muddy Water also surprises with a light and elegant Pinotage and a Syrah. I was quite stunned by the Greystone Sauvignon Blanc, by its outstanding quality and a style totally contrasting to the benchmark Sauvignon Blancs from Marlborough and other northern regions. Part of the standout characteristics would have come from the barrel fermentation with wild yeast, and partial malolactic fermentation, but there are also distinct terroir characteristics imparting a distinct minerality in contrast to the floral style of northern region Sauvignon Blancs.
Then I drove south towards Queenstown - one of the best drives you could imagine. And one place along the way that is a 'must' to see is Chard Farm winery and cellar door, near Gibbston, about 20 minutes north of Queenstown. You can't help being stunned by the vineyards on precipitous hillsides across the Kawarau River from the Gibbston Highway and the drive across the River and along the waterway to see them up close is a great experience – and the wines are good too. Another call well worth making in this location is Gibbston Valley winery and restaurant - very good Pinot Noir, and a standout Pinot Gris.
On this visit I particularly wanted to include some of the wineries whose wines have been standing out in Winestate reviews, particularly those less well known in Australia and other export markets.
Among the better known wineries I called on were Mt Difficulty, Felton Road and Akarua. As expected, the wines were excellent, and their reputations are well deserved. Others I called on were Aurum, Misha's Vineyard, Domain Road and Bannock Brae.
Pinot is the core of their portfolios and identity, as it is for the region overall, but there are interesting new directions as well - mostly with white wines. Riesling is the main focus, along with Chardonnay, Sauvignon Blanc and Pinot Gris. And I found a few surprises – a Gruner Vetliner at Bannock Brae and a Gewertzraminer at Misha's. Another new direction that was good to see was an obvious re-focus on Pinot Noir for Rosé.
One thing that really did standout to me during all the tastings was what I saw as a surprising reliance on residual sugar – surprising because of slow ripening and low Brix and also surprising because of the level of residual sugar, as high as 9 gpl in wines not specifically declared as sweet; in sweet wines as high as 30 gpl and dessert wines as high as 95gpl. I would and dessert wines as high as 60 guess that this is consumer driven – but in many cases it seems to be an overreaction to the high natural acidity levels.
Among the wines that particularly stood out for me were the following:
SAUVIGNON BLANC
Mt Difficulty 2015 Bannockburn: powerful varietal statement at the minerality end of the spectrum
Domain Road 2014: almost leathery on the nose (25% oakfermentation), with crisp minerality on the palate, lots of flavour expression, a very different style interpretation
PINOT NOIR
Bannock Brae 2014 Barrel Selection: Excellent cherry fruit aromas, palate complexity, layers of expression, great length
Felton Road 2015 Bannockburn: Classic, elegant, seamless, with a big regional statement
Mt Difficulty 2014 Bannockburn: dark berry fruit aromas an palate length, very dry
Akarua 2014 Bannockburn: Earthy, spicy, well balanced, good length
Gibbston Valley 2015: Complex fruit and herb aromas, firm structure and good varietal expression
Aurum 2015 Organic: Raspberry jam on toast! Great expression of fruit and terroir
Domain Road 2012: very interesting version, lots of forest floor aromas, powerful pallet expression, with layers and length, one to age
OTHER VARIETIES
Aurum 2014 Pinot Gris: Very fruit driven, grey smoke aroma, but no oak, 7gpl, but not a problem
Aurum 2014 Organic Pinot Gris Rosé: powerful fruit expression, got better over three days in the open bottle
Domain Road 2014 Water Race Riesling: very citrusy, tinge of kero, crisp finish, even with 5gpl
Bannock Brae 2015 Chardonnay: 10% new oak giving pleasant vanilla tinge over very rich white peach fruit, great expression
Pegasus Bay 2013 Merlot Cabernet (Sauvignon and Franc): from small yields of carefully ripened fruit with a distinct Bordeaux expression, very subtle and very elegant
Pegasus Bay 2014 Sauvignon Blanc/Semillon: Bordeaux again, very much so, made with natural fermentation and indigenous yeast, giving a unique style expression
Greystone 2015 Sauvignon Blanc: all barrel ferment, wild yeast, partial malo – very different, very elegant and minerality rather that floral
Muddy Water Pinotage: a real surprise to find this, showing restrained cool climate characteristics, rather than the full bodied South African versions, very attractive experiment.
Hong Kong Wine & Spirits Fair, November 2016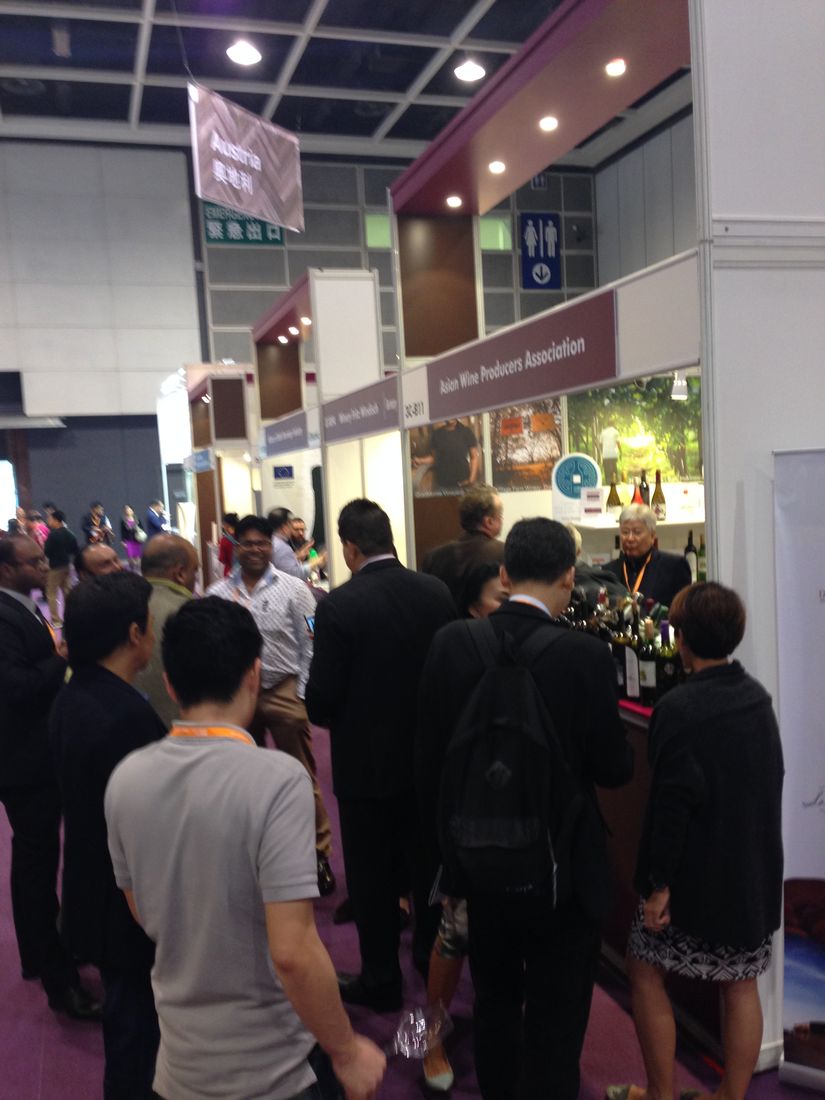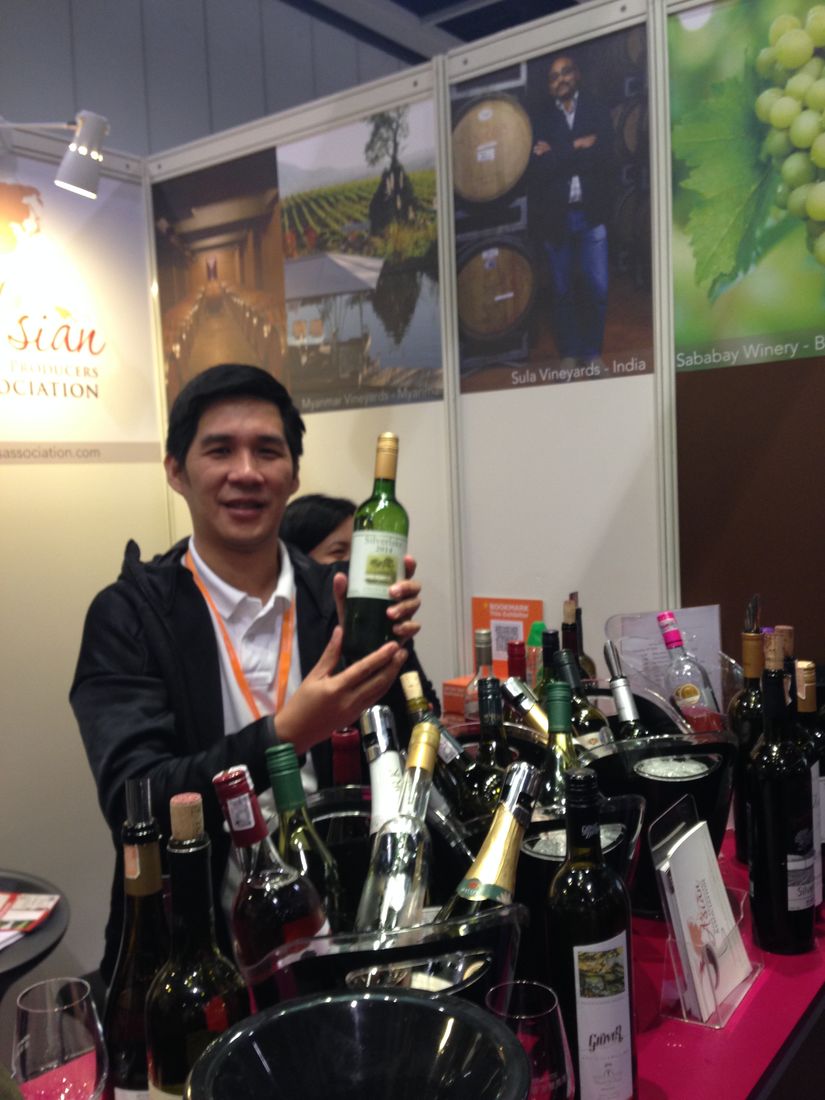 This year was the third formal presence for the Asian Wine Producers Association at the Hong Kong Wine & Spirits Fair. In addition to the general promotion of the AWPA and its activities on behalf of members, seven of our member wineries were showing their wines at the booth. These were Chateau Mercian (Japan), GranMonte, and Silverlake (Thailand), Grover/Zampa and York (India) and Hatten and Sabbabay (Bali). There was a constant stream of visitors to the booth, including many big names in the broader global wine community anxious to know more about the industry in Asia and its achievements.
Asian Wine Review Booklet 2017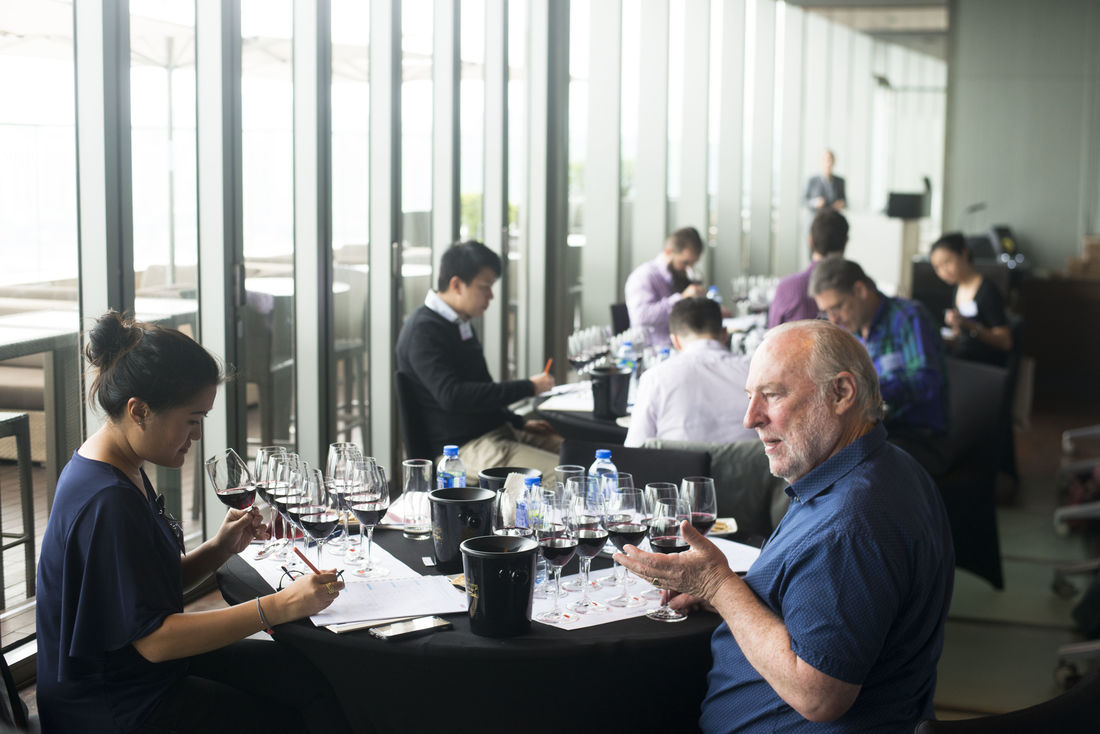 Eddie McDougall's inaugural edition of Asian Wine Review in 2016 (www.asianwinereview.com) has proven a very effective tool for the wine industry in Asia to become better understood in the marketplace, both within Asian markets and internationally. This has built on the work Eddie did in his outstanding TV series on wine in Asia.
In Hong Kong on 9 November 2017 I judged with the team that Eddie brought together to review wines for the 2017 edition of Asian Wine Review. Underlining the success of the inaugural edition 350 wines were submitted by 120 Asian wineries for assessment for the 2017 edition. It was a great line-up, with many entries matching the highest world class standards and a many setting new standards for quality styles from varieties that are made from either local vine species or long-ago introduced European or North American varieties.
The 2017 edition will be released in March and it will appear in three languages English, Chinese and Japanese. Great work, Eddie!
Judging at Asia Wine Trophy Competition - October, 2016
The 4th Asia Wine Trophy Competition was held at Daejeon, South Korea, from 24 to 27 October. I judged last year, and was judging again this year.
The Competition is held to coincide with two other high profile Asian wine events also being held in Daejeon:
The International Wine & Spirits Fair (28 to 30 October), at which I was representing the Asia Wine Producers Association, and
The Asia Wine Buyers Conference (26 to 30 October).
These events are managed by Deutsche Wein-Marketing (GmbH), which conducts the world's biggest wine competition each year, in Berlin. The Daejeon program is now the sister-event of the Berlin competition. Both events are officially supported by the International Organisation of Vine and Wine (OIV) and the Union Internationale des Oenologues (UIOE).
In the Asian Wine Trophy competition there were 3,869 entries, from 30 countries. The judging was carried out by a total of 130 judges, from 23 countries, working on 20 panels. Over half of the judges were drawn from eight countries in Asia, mostly from Korea.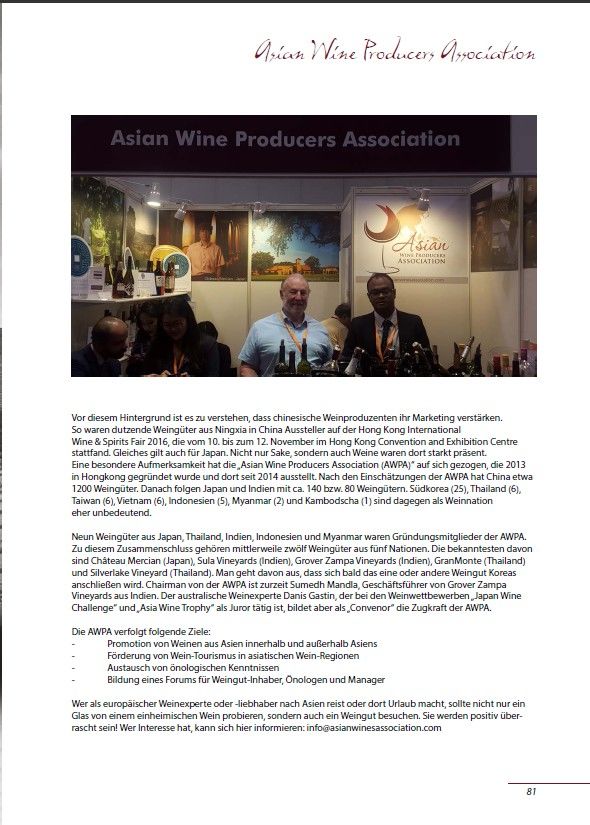 Grand Tasting for Wine Australia - Seoul and Tokyo, September, 2016
I will be presenting the Grand Tasting in both cities for Wine Australia – in Seoul on 6 September and Tokyo on 8 September. We have decided to do something different – presenting and demonstrating a theme that most people in the northern hemisphere are surprised by: "Australia – A Continent of Shiraz".
Australia is the only country that is also a Continent – actually bigger than Western Europe. So you could expect, with all the geographic and climate diversity, a range of distinctive styles with a single variety planted all the way across the continent. So I am presenting nine wines for tasting, with three themes:
We are not the "New World" when it comes to wine – we are the "Old World". To show this I will be presenting an 1847 vines Shiraz from Schild Estate in the Barossa Valley, an 1860s vines Shiraz from Tahbilk in Victoria, and a Shiraz from Tyrrells in the Hunter Valley including grapes from vines planted in 1867.
2. A Continental style spectrum – demonstrating the difference with Shiraz wines from New England and Orange
(northern and central NSW), Heathcote (Victoria) and Great Southern (Western Australia).
3. The world is impressed with the potential of this variety in Australia – showing wines from M. Chapoutier (Pyrenees,
Victoria) and Kendall Jackson (McLaren Vale, South Australia).
It pleasantly surprised the tasters, with lots of questions being asked. It also got surprisingly extensive and detailed media coverage in both countries.
Japan Wine Competition - July, 2016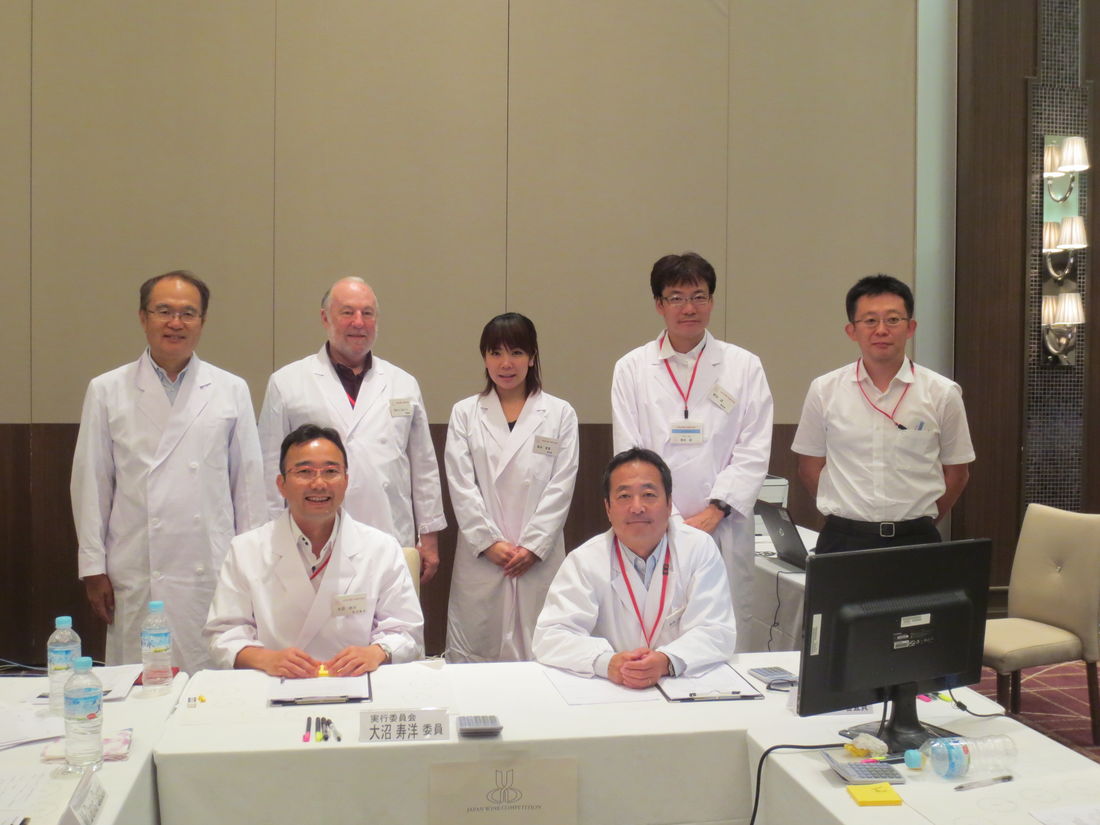 I was very pleased to be judging again at the JWC, at which I have been privileged to have been a judge for every year, except one, since the very first event in 2003.
For me it is a great opportunity to update on what is happening in the wine industry in Japan. The fact is that what is happening in Japan is quite different to the traditional wine producing countries, a big range of climate and soil factors from the very cold far North to the semi-tropical far South. Naturally, this produces wines that are different to the conventional Western styles, and this difference is taken to another level altogether with the unique varieties that have been developed in Japan and are now more widely used in viticulture and wine production.
I was really pleased to be judging the hybrid category and blends again. It is a real adventure for me.
My Impression of the Submitted Wines, by Category
A: Hybrid and Other Red
I have been watching this category develop for over 20 years now, and judging this category at the JWC has provided me with the opportunity to understand it much more comprehensively.
There has been great progress in style development over this time, especially with Muscat Bailey A, now the most widely planted hybrid, with the potential, I believe, to do for Japanese red wine what Koshu has done with white wine. There is a very diverse style profile ? from very lightly coloured and light body rose styles, some slightly sweet, all the way through to very deep coloured, very dry, extractive wines with extensive oak fermentation and maturation.
Black Queen and Kai Noir are very interesting blending options, particularly with Muscat Bailey A, giving more depth and expression to the palate. And I was very pleased to see a lot more entries this year of Yamabudo (wild mountain grape) hybrids, as stand-alone varieties and in blends. Almost 20 entries had some yamabudo component. Yama Sauvignon (a cross with Cabernet Sauvignon) I find a very exciting variety giving a unique character to Japanese wines that will eventually attract international attention.
B: Blended Red Wines
I was interested to note this year the positive impact of classic varieties - especially Cabernet Sauvignon and Merlot - in blended red wines, both in this category and in the Hybrid and Other Red category. Cabernet gives a really good structural boost to the lighter-style Muscat Bailey A, providing a firmer palate finish, particularly. The Merlot gives a softer and more gentle fruit characteristic in some of the blends, especially with varieties like Kai Noir and Black Queen that can be a bit severe as single variety wines
C: Labrusca Red Wines
I was particularly impressed with the Campbell Early entries this year. It is a variety that I think makes very good lighter-style wines with a very appealing aroma that consumers really enjoy. It was the only labrusca variety that made it through from the primary evaluation round to the final assessment in this category. It is good to see the number of entries of this variety growing and the standard improving also - though I personally think drier versions of Campbell Early are more attractive than semi-sweet.
D: Extremely Sweet Wines
Frankly, I think that there is an over-reliance on added sugar this category - not just this year, but each year that I have judged this category. Where the added sugar is excessive, the only fruit impression is on the aroma. Then it disappoints when the fruit flavour is eliminated on the palate by the rich syrup characteristic that comes from excessive added sugar. The Kerner entries had good aromas but that did not follow through to the palate. The one entry that really appealed to my palate was a Steuben, which finally was marked up to gold in the final round. In this category you expect to find wines that have intensely concentrated fruit characteristics, either from botrytis or from grapes semi-dried on the vines. This was not the case with these entries, though the Steuben did have some vine-dried fruit characteristics.
UPDATING ON CHILE, January, 2016
On my very first visit to Chile, in 1981, I was taken to a couple of vineyards and had some tastings. I confess I was not impressed with what was then on offer to the locals but I could see that if new world technical advances were bought to this country it had the potential to make an impression on the wine world, given the positive climatic and soil environment for viticulture. And, wow, didnt that happen quickly!
I made three discoveries on that first visit. One was a variety called Pais, widely grown because of the high yields the vines produced and thus the main resource for the very ordinary, very low priced wines that were then the staple. Another was a variety that was regarded as, perhaps, some clone of Merlot and subsequently became known as Carmenere. And the third was a white grape variety called Sauvignon Gris. There were tiny plantings of Cabernet Sauvignon and Merlot, but these three varieties were the base resource of the industry at that time.
Well, Carmenere is now the signature variety for Chile and is very popular at home and abroad. Pais is still grown, in fact is Chille's second most planted varierty, but ends up predominantly as a blending factor for low-priced commercial red wines. It is still very difficult to find as a stand-alone varietal in wine shops and is even rarer in restaurants. But, at the stunning Barrica 94 wine bar and restaurant in the trendy Bellavista suburb, I was shown an outstanding example of Pais by the head wine man, Alberto Bitran. It was Gonzales Bastine Pais en Tinja, from Maule region. It was really appealing in a gentle Beaujolais-style. This is one variety to look out for in the future and it could emerge sooner than most expect. Leading producer, Concha y Toro, has establisheda US$5 million reseach Centre in the Maule Valley, which opened last year and, of the 54 research projects underway, a major focus has been on the Pais variety (known as Mission, in California and Criolla, in Agentina).
I was able to find more of the Sauvignon Gris. It is certainly different to Sauvignon Blanc - with a broader spectrum of aroma run flavours, a richer texture and more length on the palate. The one that stood out for me of the several tasted on the visit was a Casa Silva, from Vineyards as old as 1912 at its Angostura Estate in Colchagua. It's a Special Release, not part of the regular range.
And Barrica 94 www.barrica94.cl is definitely the place to go if you want to get a good practical overview of what is going on with wine in Chile now. It has a massive wine list, right across the spectrum, and also has about 36 wines (changed often) that can be bought either by the glass or as a substantial tasting shot. The best thing about this is that it can be done in flights of four wines.
BRAZIL: A New Frontier, December, 2015 - January, 2016
Brazil, despite a surging domestic wine sector, remains very much a secret in the international wine community. Visiting again in December 2015 - January 2016, my seventh visit to Brazil since my first visit in 1982, I had the opportunity to update and was delighted by what I found.
Believe it or not, the industry body, Wines of Brazil, reckons there are as many as 1,100 wineries, most of them traditional grape growers with small plantings and small production for local consumption. But, since the industry began to emerge in modern format from the 1990s, there are now about 150 wineries producing fine wines for national or international markets. Brazil is now the fifth largest wine producer in the Southern Hemisphere, with as much as 10,000 ha of vitis vinifera vines.
For those already in the know, there are fundamentally two wine regions in Brazil working with contemporary styles, at both extremes of this vast nation. The biggest, by a long way, is Serra Gaucha, in the South East of this vast nation, to which Wines of Brazil attributes nearly 85% of national wine production. It is not far north of Uruguay. The other one is in the tropical North East
(9* latitude, 1,000 km from the Equator), at Vale de Sao Francisco, in the State of Bahia.
The first phase of the contemporary movement started when some of the premium French Champagne producers set up local operations, attracted by the obvious market for celebration drinks: partying is a major part of Brazil's culture. Progressively, since then, local producers focused on still table wines have gained momentum and are now tapping away at the corners of global markets, though the principal focus has been the rapidly rising domestic consumption (and ability to pay for quality) since the turn of the century.
Inevitably the first step was with the classic French varieties, and principally red varieties - Cabernet Sauvignon and Merlot, essentially. Standards have progressively risen with these varieties and innovative grape growers and winemakers have set out in other directions - with some very interesting results.
One of the first new frontiers was picking up on Uruguay's success with the Tannat variety and Agentina's success with Malbec. On this trip I was able to sample a fair cross section of both and they are certainly delivering, in a new world way. More surprising, however, is the emergence of Pinot Noir. On this visit I was able to taste the offering of four local wineries. They were pleasant wines, certainly, but may not be picked as Pinot Noir by the Pinotfiles who see Burgundy as the benchmark.
An even more surprising find was a wine made from the rare Marselan variety (which is a very recent crossing of Cabernet Sauvignon and Grenache). I have only ever seen it before in China, where it is emerging as a good resource for local wine styles.
Asia Wine Producers Association in Daejeon, South Korea, 3-6 September, 2015
After 30 years closely following the progress of the wine industry in Asia I am delighted to be able to be working with leaders in the industry in the region to get their story out to the global audience.
Our first public appearance was at the Hong Kong Wine & Spirits Fair in 2014. The international Wine & Spirits Fair in Daejeon was our second appearance at a major regional wine event.
A selection of wines from five of the AWPA Foundation Member wineries were presented at the Association's booth at the Daejeon, over four days. We had over 600 visitors to the AWPA booth across the four days of the Fair.
There were thee things that I think, alone, justified the AWPA presence. One was the consistent enquiry by Koreans tasting the wines about where they could get them in Korea - then disappointment when they were told that they are not yet available in the market. Some importers were hearing this and it led to serious enquiries about supply lines. Some people even asked if they could contact th wineries to get bottles sent to them directly, given they couldn't buy them locally.
The second theme was the number of international winemakers and exhibitors who kept coming to the stand to taste the wines and noting that they were directed there by other winemakers or buyers who had visited the stand and were both surprised to discover that there was such a thing as Asian wine and then elevated surprise when they could see what high-quality is being achieved.
The third was the nunber of representatives from universities and educational institutions visting the booth, both Asian and international, becoming impressed and asking if AWPA could work with them to present this exciting new wine frontier to their students.
The next AWPA apperance will be at the Hong Kong International Wine & Spirits Dair in November, 2015.